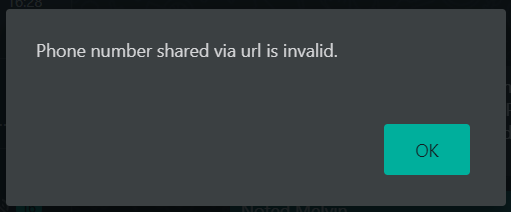 Known Whatsapp Desktop Bug
On the latest whatsapp update, there appear to be a bug in which when a new customer is clicked to whatsapp on a Windows computer, Whatsapp dekstop app will deny and inform that the Phone number shared via url is invalid.
This only affect new customers (no previos history of whatsapp chat).  
Unfortunately, Works25 cannot do anything to fix this problem. The problem should be fixed by Whatsapp when they release new update.
Meanwhile, to alleviate this hassle, Works25 clients on PC can instead whatsapp their clients using Works25 system on smartphone.
Whatsapp app on smartphone does not show this bug.
Masalah dengan Whatsapp Desktop
Pada kemaskini terbaru Whatsapp pada PC, ada satu masalah; apabila klik pada butang whatsapp untuk pelanggan baru, aplikasi Whatsapp akan memaparkan masalah seperti gambar di atas. Ayatnya: Nombor yang dikongsikan tidak valid.
Masalah ini hanya terjadi pada pelanggan baru yang tidak pernah dihubungi melalui whatsapp sebelumnya.
Kami Works25 tidak dapat berbuat apa-apa berkenaan masalah ini kerana masalah ini adalah dari Whatsapp sendiri. Masalah sebegini kebiasaannya akan dibetulkan dan hilang dalam kemaskini whatsapp yang seterusnya.
Sementara itu, untuk mengatasi masalah ini, kami cadangkan pengguna sistem Works25 pada PC, untuk menggunakan sistem Works25 pada telefon pintar untuk hantar mesej Whatsapp kepada pelanggan.
Aplikasi Whatsapp pada telefon pintar tidak terkesan dengan masalah ini.